Springer Farm

provides top quality Springer Puppies.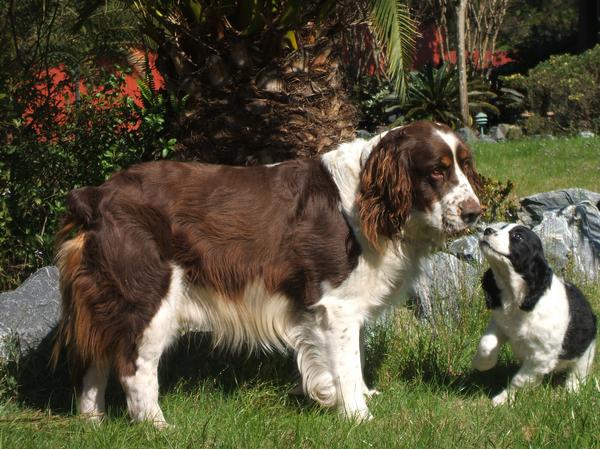 The Florida Lemon Law Statue Number 828.29 states that all for sale pups or dogs have a Florida Certified Helath Certificate by law, and anyone that does not obey by these statues are not confirming with Florida law.
I would suggest if you do not have a health certificate you have no back up. If the baby gets sick, I reccommend that whomever you purchase your baby that you make sure you receive a Florida Health Certificate .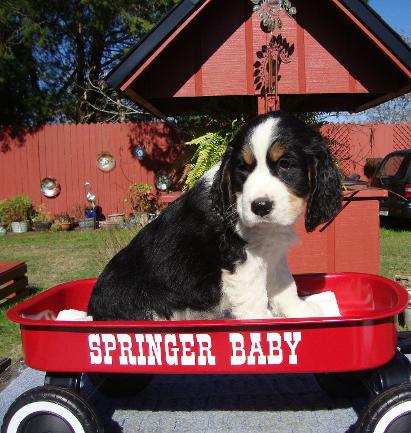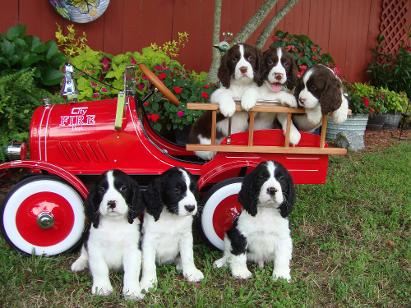 About Us
My name is Dianne and I have been breeding English Springer Spaniels for over 30 years. I have a one acre kennel located on my property for my babies. The Springer is a great all around dog, they are about medium size and vary in color. You will see in my pictures some of my recent pups and a couple of my studs. I love this breed because they are a great family dog, I was raised with them my whole life and would recommend them to anyone who has children. A couple of things that the Springer is known for are their outgoing personalities, loving the water, and show great affection to their owners. If you have any questions in regards to my babies you can contact me at 904-781-7862.
A standard of mine is that I breed strictly for health, temperment, beauty, and well being. I just want my babies going to a good home, they are limited registration, meaning no breeding rights. So that I will not have to worry about their well being or health.
AKC comes out once a year to ensure I meet the standard requirments. Out of 25 years of breeding English Springer Spaniels I have never had a mistake or bad mark. AKC recognizes that I am a good breeder and I meet all of their rigorous standards, and that I am in good standing with them.
We do not ship our puppies. We want to meet you face to face and see the environment to see how the puppies are raised and how loved and cared for they are here.
Contact Us
Phone: 904 781 7862
Email: Babydustin20@comcast.net
Address: 1647 chaffee rd s Jacksonville FL 32221
We only accept appointments. Call to make one, we do not take walk ins.
Look to hear from you soon.
Testimonials
"I purchased a puppy from Diane and she told me I could not have it before it was 8 weeks old and she gave me a health certificate from the vet. I love my puppy and he is perfectly healthy. I would definately buy another one from them if I had the room for it! My Puppy is now 1 1/2 years old and no health problems." -Peggy
1647 chaffee rd s, jacksonville, FL | 904 781 7862