Springer Farm

provides top quality Springer Puppies.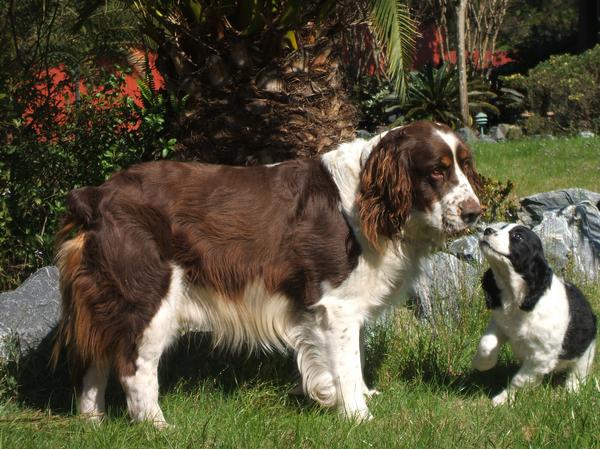 The Florida Lemon Law Statue Number 828.29 states that all for sale pups or dogs have a Florida Certified Helath Certificate by law, and anyone that does not obey by these statues are not confirming with Florida law.
I would suggest if you do not have a health certificate you have no back up. If the baby gets sick, I reccommend that whomever you purchase your baby that you make sure you receive a Florida Health Certificate .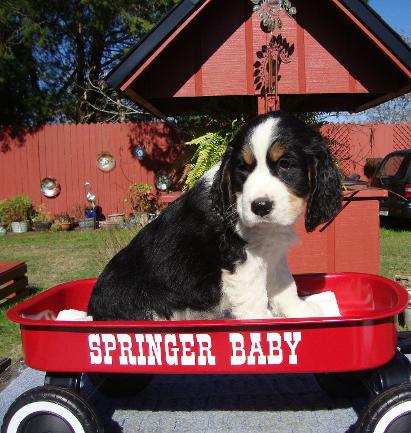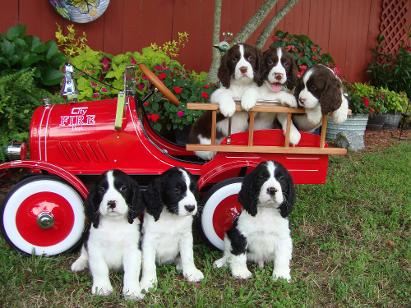 About Us
My name is Dianne and I have been breeding English Springer Spaniels for over 30 years. I have a one acre kennel located on my property for my babies. The Springer is a great all around dog, they are about medium size and vary in color. You will see in my pictures some of my recent pups and a couple of my studs. I love this breed because they are a great family dog, I was raised with them my whole life and would recommend them to anyone who has children. A couple of things that the Springer is known for are their outgoing personalities, loving the water, and show great affection to their owners. If you have any questions in regards to my babies you can contact me at 904-781-7862.
A standard of mine is that I breed strictly for health, temperment, beauty, and well being. I just want my babies going to a good home, they are limited registration, meaning no breeding rights. So that I will not have to worry about their well being or health.
AKC comes out once a year to ensure I meet the standard requirments. Out of 25 years of breeding English Springer Spaniels I have never had a mistake or bad mark. AKC recognizes that I am a good breeder and I meet all of their rigorous standards, and that I am in good standing with them.
We do not ship our puppies. We want to meet you face to face and see the environment to see how the puppies are raised and how loved and cared for they are here.
Contact Us
Phone: 904 781 7862
Email: Babydustin20@comcast.net
Address: 1647 chaffee rd s Jacksonville FL 32221
We only accept appointments. Call to make one, we do not take walk ins.
Look to hear from you soon.
Testimonials
It's been a bit since we have updated you on our precious, Brody (he was the chunky boy). He is just the perfect fit for our family and he just adores his sister, Lacey. We love watching them both play with one another and to see Lacey so happy with her new sibling/companion.
He is a little over 30 pounds now and still growing although he actually has slimmed down now and looks a bit leaner than when he was really little. We can't thank you enough for trusting us with our little bundle of joy. He truly lights up our life! I have included some recent pictures. Have a great day!
Take care,

Monica Strickland
Hello!
It's hard to believe a year ago today I called you to see if you had any puppies left and was so excited to find out someone backed out of taking a little female tri color. A year later here we are today and she's currently snoring in my bed as I write this! :)
Stella has been the most amazing dog. She's learned so much and has truly become my best friend! She has started her training to become my diabetic alert dog and has already picked up on the training and loves to put on her vest and go to "work"!
Again I can't thank you enough for such an amazing dog!
Thanks!
-maggie and Stella
"I purchased a puppy from Diane and she told me I could not have it before it was 8 weeks old and she gave me a health certificate from the vet. I love my puppy and he is perfectly healthy. I would definately buy another one from them if I had the room for it! My Puppy is now 1 1/2 years old and no health problems." -Peggy
Hi there,
So nice to see you both on our way up to Georgia, and to SEE the puppy we will be getting! Can not wait until he is old enough to come home with us!! What beautiful pups they all were, mom and dad should be proud of their off spring! Both Skip and I could tell how very much you love your dogs!!! Just as we loved our Winston, they are just loveable dogs!
Looking forward to some pictures as he gets older. Take care, and see you again soon. He will be our Christmas present to ourselves and grandkids, who are so looking forward to seeing him, along with Skip and I. Again, thank you for letting us "see" him, you have a lovely piece of property, and what fun for the dogs to run around in..
Best wishes, sincerely
Julie and Skip (Lakeland)
Hi Diane - thought I'd drop you and your husband a note to let you know that Cooper had his first obedience lesson with a trainer this am and she raved at Cooper's abilities to focus and follow commands. She raved about whoever the breeder was! I told her about you all of course.

He's so smart and has such a lovely and agreeable disposition. You no doubt already know this about your pups but I just wanted to let you know it's so true! We, along with Cooper, are learning commands in order to 'evolve' him into the wonderful pet we know he can be. I'll be so proud to take him on walks and to the green market downtown knowing he will be behaving and ADORABLE! - Heather
Hello!
Stella has settled into our home perfectly. She loves our other dog and has started puppy clssses. She loves walking with the family and is a ball of energy!
She's my shadow, and I love it. She goes everywhere with me and I can't thank you enough for giving us our perfect little girl.
Here of some recent photos of Stella.
Have a good day!
P.s. hope you guys survived Irma okay!
-Maggie Mayhew
1647 chaffee rd s, jacksonville, FL | 904 781 7862